Who?
My primary focus for MASK EXPLORATION has been the development of process-oriented and experiential workshops geared towards actor training programs at colleges, universities, high schools, and for professional acting programs.  
Workshops on the university and high school levels are geared for individual actors  training in classes, as well as for full productions in rehearsals. The  Mask Work allows actors, either as assigned scripted characters from a  rehearsal-in-progress or simply those developing their skills in classrooms of instruction, to discover inner layers of their created characters and to communicate those layers in a fresh, uncluttered way. The mask work then goes beyond the workshops to enhance actors' approach to all characters, masked or not.
The work can also be geared towards drama teachers and teachers-to-be in elementary, high school, and university/college programs. Established teachers or  Education majors studying to be teachers can develop their own creative expression in MASK EXPLORATION and understand the teaching of the process so that they can, in turn, continue to guide their own students through the exploration work in their own classrooms.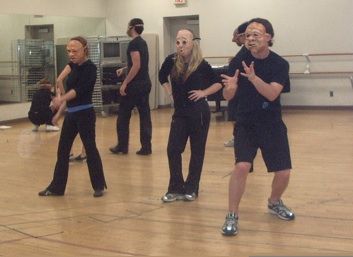 What?
The workshops are intended to allow participants to intuitively create multi-faceted characters from a broad spectrum of emotional states to a fully realized and expressive body-physical entity, from behind the mask. The integration of mask and body is freeing and creative. It allows actors to bypass negative physical habits or unlock physical blocks, and to encompass a rich, fully integrated sense of body communication and expression. The Mask Work teaches us how to make appropriate character choices, and to allow those choices to intuitively come to us from the energized and creative essence of the mask itself. Through the MASK EXPLORATION process, acting students and performers are led to an imaginative and deeper understanding of the character creation process.
Teachers can absorb the experiential process with their students or can participate in a workshop consisting of only teachers or teachers in training. In workshops of only teachers, I attempt to integrate specific "how to" discussion, offering instructional methods so that teachers learn how to teach the process and integrate it into their existing curricula.  I can also meet with individual teachers to help them create and plan syllabi, lesson plans, and an instructional process with specific exercises appropriate to their level of students.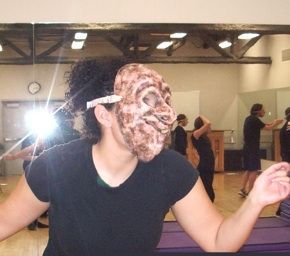 Where and When?
A series of  different leveled workshops (beginning, intermediate, advanced, or for a cast of a particular production's rehearsal process) are usually offered as  several different workshops within a one-week residency. I am available spring or summer semesters. Individual workshops can be a single class with one two hour session, or can be expanded to encompass two or three two-hour  classes of the same level. At the University of Arizona, where I have conducted  three such week-long residencies, I usually have two workshops of varying  levels each day to accommodate actors-in-training in all their phases of  development and abilities. I need a large, open playing space/classroom or mirrored dance studio for these workshops. As I have 30 masks at this time, classes are more successful if students in each class number no more than 20, to allow flexibility in mask choosing and the integration of the process  work and individual attention in the time allowed.
Within the workshop schedule, I also work with Education majors who are preparing to teach drama K-12, and with university faculty who wish to learn the "how-to's" of the facilitator/teaching process. I can, and have helped them develop syllabi and curricula to integrate into their own classes and actor training programs.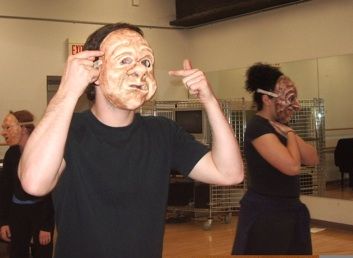 ---
Who?
Community workshops for participants with little or no theatrical experience are very successful for those who want to explore how to get their creative  and playful juices running. It is for people who enjoy exploring, discovering and developing creative parts of themselves, who welcome an exploration of the archetypes and range of emotions represented by the breadth of humanity.  We ask the question: What would it be like to wear the shoes of another  person? MASK EXPLORATION leads to the broadening of one's self through the awareness of themselves and others.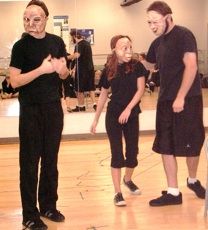 What?
Classes for community participants are more flexible and expanded in the number of creative avenues we explore, to allow for a fuller, more integrated experience of melding theatrical and non-theatrical tools. The process of creativity remains intact in each and every workshop I lead, but the Community work is geared towards the needs and focuses of non-actors or those with limited theatre training. The workshops envelop a variety of artistic experiences, all leading towards the goal of awakening creativity and exploring the creative process through the imaginative use of masks.  It includes the building of theatrical character, and an examination and expansion of self-awareness.  Additional exercises include creative writing, music  triggering, creative visualization, and improvisational  scenarios.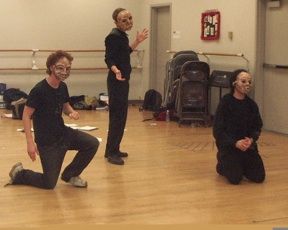 Where and When?
Workshops are usually three and five sessions of two hours each.  These workshops are usually offered in the evening, to accommodate participants' working schedules. Community workshops are most successful if the  number of participants is at least ten, but no more than sixteen, to allow  time to work individually with each participant. I need an open space, preferably with full-length mirrors.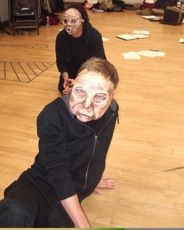 ---
THERAPY
These workshops are a modified version of the basic process orientation and can be deeply moving in the experiential realm. Methods of exploration revolve around the awareness of and subsequent physicality of emotional states. It focuses on emotional release and alternate character self-expression. The exercises are conducted in an atmosphere that is conducive to safe risk taking, improvisation, and playful discovery. The workshop time frame allows time for personal processing through assistance in unblocking emotions and expressing feeling within the safety  of the mythic realm of masks.
Who?
Some of the questions to be explored by any leader in these types of workshops include:
What  part of you is in the mask you have chosen? How can you identify and transform some aspects of yourself… and identify/ respect/embrace others, through the creation of character? What part of humanity do you represent? What other parts would you like to connect to or embody emotionally? How does physicalizing an emotion help to focus the embracing or the releasing facet of that emotion? How does safe risk taking in expression of the masked character and the development of communication skills help to balance you and build creative, honest expression? How can the inner energy of  imaginative mask play release the trusting child within me? What is the difference between creative choice making and choice-allowing? How, through the masks, can I touch the "inner self" who loves to explore, imagine, discover, create, confront and change? We develop in the process of passage and change, reaching towards a balance of self-awareness and expression. The masks are a tool for this.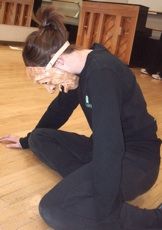 What?
Psychodrama groups, therapy groups, and those into mutual aid groups or individual exploration can also benefit from the awakening of self through emotional and physical expression. The work builds confidence, heightens inner awareness, and exercises the mind/body/impulse connection.
Please note:  in any situation dealing with clinically or emotionally unstable participants, I only work with a licensed mental health professional in attendance. Therapists may want me to lead the exercises, and then they conduct their clients' processing through their own methods.  
Self-help mask workshops, large or small, with a less intense therapy focus and without the presence of a licensed mental health professional can be equally beneficial. All that's needed by participants is a space, some full-length mirrors, and an honest, playful desire to explore themselves  creatively.
I am not a therapist, but I have seen the benefit participants can experience through the exploration of the masks' emotional and physical representations. For example, for a series of workshops with the Cancer Family Network of Montana, I worked with survivors and their families, and those patients still in treatment. A combination of Improvisational Games and Mask Work was for them clarifying, releasing, and rejuvenating.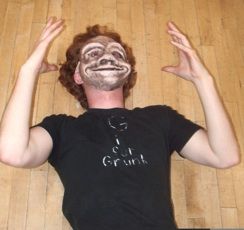 Where and When?
For workshops with a licensed medical health practitioner, please contact me directly for more information, fees, and availability. For anyone interested in setting up a " mutual aid " type of workshop from a community base, without the presence of a licensed medical professional, also please contact me directly.